The Conf-D user guide Section 18.5 indicates that PAM Authentication can be used to authenticate the user and group membership can be determined by /nacm/groups. More specifically, I want to ignore the group/gids provided by PAM/Linux and determine group membership via /nacm/groups only. In this case, there is no relationship between the PAM/Linux groups and /nacm/groups.
Please see below. I've added the 'netconf-admin' user to the 'admin' group in aaa_init.xml. However, Conf-D is still assigning group membership according to PAM.
Is there a way to configure Conf-D to ignore the group information returned from PAM and only use /nacm/groups?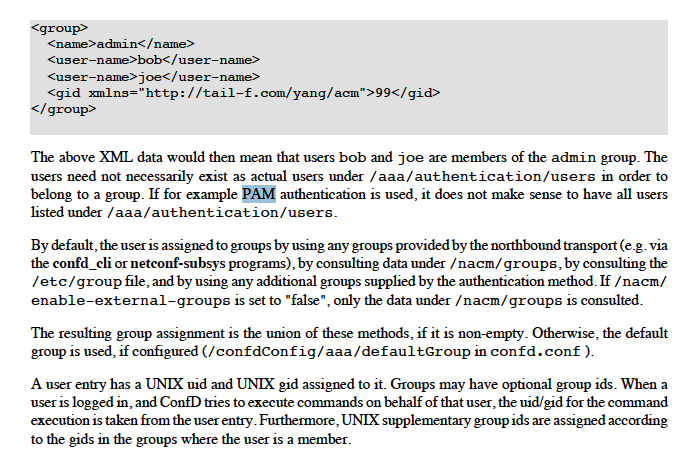 cat  /opt/confd/var/confd/cdb/aaa_init.xml
<config xmlns="http://tail-f.com/ns/config/1.0">

    ...
  <nacm xmlns="urn:ietf:params:xml:ns:yang:ietf-netconf-acm">
    <write-default>permit</write-default>
    <groups>
      <group>
        <name>admin</name>
        <user-name>admin</user-name>
        <user-name>private</user-name>
        <user-name>netconf-admin</user-name>
      </group>
      ...

<INFO> 7-Sep-2022::13:24:10.478 hp confd[2385729]: audit user: [withheld]/0 local authentication failed via netconf from 10.2.10.20:49452 with ssh: no such local user
<INFO> 7-Sep-2022::13:24:10.508 hp confd[2385729]: audit user: netconf-admin/0 pam authentication succeeded via netconf from 10.2.10.20:49452 with ssh
<INFO> 7-Sep-2022::13:24:10.510 hp confd[2385729]: audit user: netconf-admin/0 logged in via netconf from 10.2.10.20:49452 with ssh using pam authentication
<INFO> 7-Sep-2022::13:24:10.524 hp confd[2385729]: audit user: netconf-admin/14 assigned to groups: netconf-admin
<INFO> 7-Sep-2022::13:24:10.524 hp confd[2385729]: audit user: netconf-admin/14 created new session via netconf from 10.2.10.20:49452 with ssh


Regards,
Matt